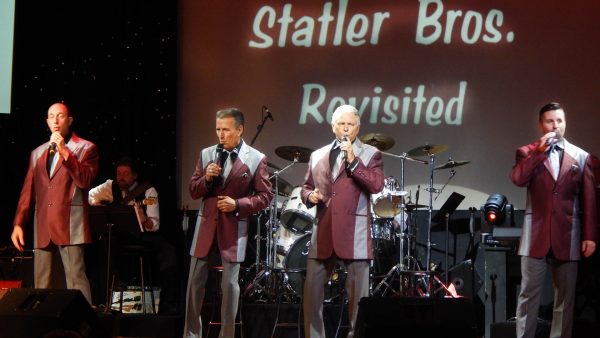 It was apparent to us that we had arrived at the right theatre because when we walked into Jerry Presley's God and Country Theatre, 1840 Highway 76, last Thursday night because we heard "Susan When She Tried" coming from the stage. We were there to see the Statler Brothers Revisited show, a tribute to the famous Statler Brothers. Once we had our tickets, we settled in to listen to four very talented young men sing those familiar tunes like "Flowers On The Wall" and "Elizabeth." The four young men I'm referring to are Roy Morris, Brad Bacon, Cody Boggs and Eddy Bolton.
These four men are seasoned professionals, having been in the music business practically all their lives. Well, except for Cody who is a relatively newcomer to the business, but you'd never know it by his singing and stage presence.
Every good quartet needs an even better band 'cause' without the band the singers would be in a tough spot. Roy, along with band manager Jim Garstang, has put together one of the top bands in town. In addition to Jim on keyboard, they have Barry Bales on lead guitar, Kevin Clemons as the utility man, Paul Oney on drums, and David Milligan on bass guitar. All combined, this represents many years of experience in the band.
Roy, as emcee, keeps the show moving and packs as many Statler Brothers songs as he can get into a two-hour show. Not only that, he tells some interesting history of the group and the songs they sang and recorded over the 40-something years.
Who would have thought that the show I started with Roy, Cody and Mike Walker would still be going strong some seven years later. That just goes to show you the degree of popularity of the Statler Brothers and the timeliness of their songs. The Statlers retired in 2002, except for Jimmy Fortune who is still very actively touring and singing, and the guys have not sung together in concert since that last farewell show.
The Statlers were one of, if not the, top groups in country music for almost 40 years, starting out with Johnny Cash as his backup singers for a little over eight years. From that humble start, they went on to tour all over the world, packing arenas and theaters at every performance. From their first hit record "Flowers On The Wall" they went on to win Grammies, Country Music Awards, gold and platinum records and many more accolades than we can list for hits like "Bed Of Rose's," "Class of '57" and "I'll Go To My Grave Loving You."
The Statler Brothers Revisited brings back a lot of memories from yesteryear and you can see them on Tuesday and Thursday nights at 8 p.m. at Jerry Presley's God and Country Theatre. Call the box office at 417.334.6806 for information and reservations.