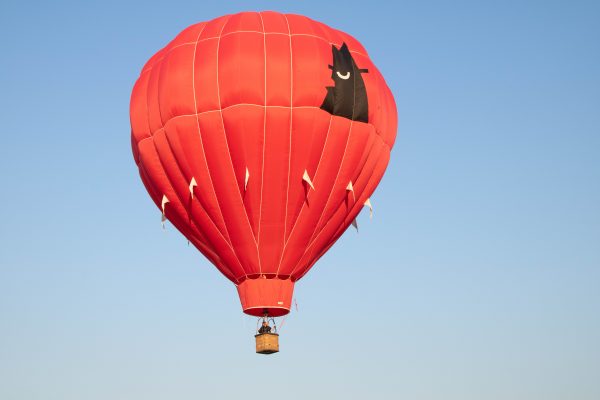 It's not unusual to look up in the early morning Branson sky and see a hot air balloon lazily floating overhead. Chances are that balloon is piloted by Rodney Williams, the owner of Branson Balloon, taking passengers on an unforgettable high-flying adventure.
"Red Alert" hot air balloon flies for first time in 22 years
On the morning of Apr. 9, a new balloon was seen floating across the Branson sky. Although it was a "new" balloon to Branson's skies, ithe big red balloon, with, what looked like a "Bandit" was being flown for the first time in over 22 years. It was piloted by Williams, giving student Jina Gorham her first hot air balloon lesson.
The "Red Alert" was manufactured in 1986 by Aerostar International, of Sioux Fall, South Dakota, for Stewart's Security Systems. Fully inflated its height from the ground is 72 feet and its diameter is 55 feet.
Stewart's used it for marketing as well as offering private and orientation flights, instructional flights, and tethered balloon displays. In 1996, the balloon made its last flight and ended up packed away in a barn.
What makes a hot air balloon fly?
Red Alert consists of an "envelope" "which is constructed of approximately 735 yards of double rip-stop-fabric. It has 1400 yards of nylon "load tapes" for integral strength. The envelope is attached to a "basket" for a combined weight of about 600 pounds. The burner used to heat the balloon for flight is rated at 12,000 btu's and uses liquid propane as the fuel." The fuel "is vaporized and burned to provide the heat necessary for lift. The air temperature inside the balloon must be about 125 degrees F warmer than the outside air temperature in order to rise.
Jina Gorham's hot air ballooning adventure
Jina Gorham's, first exposure to hot air ballooning was in 2013 when she contacted William's about using hot air balloons in connection with the marketing of her business. Her interest in ballooning and its culture grew from there. As a hobby, she worked as a "crew" member with Williams. As her interest in ballooning grew she decided that she wanted to become a pilot.
She was casually searching Google to see what balloons were available and within her price range. To her surprise she discovered the "Red Alert" as part of an estate sale through eBay. The owner made her a deal she couldn't refuse. Gorham decided to buy it sight unseen and had it shipped to her. She said that it was quite a gamble because a lot could have happened while it was in storage. If the envelope had gotten damaged, through mildew, rodents or any other reason, the balloon would have been worthless.
It was a good gamble. When it arrived and was unpacked it was in good physical shape. The required FAA paper work however was not. The balloon hadn't been registered in over at least 22 years. It took Jina just shy of a year to get the paperwork straight. Then there was the required FAA inspection and the necessary repairs and modifications to the balloon.
Up, Up, and Away"
Now she was preparing to take off, for her first lesson, toward earning a Private Pilot's License in the "Red Alert." Gorham said that, at this point, she's just interested in the balloon culture and flying the balloon for fun and in festivals.
When the balloon was ready for launch Williams and Gorham got in the basket and waved to the onlookers. The "Red Alert" gently rose into the sky for the first time in over 22 years to drift gently across the early morning Branson sky.