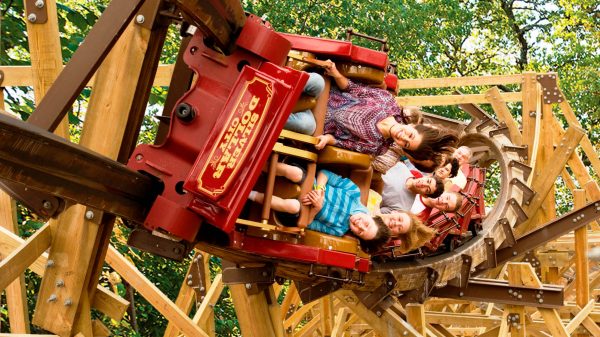 Silver Dollar City has been named as one of the Top 5 Amusement Parks in the country, according to the national USA TODAY 10Best Readers' Choice Awards. The 1880s-style theme park in Branson, Missouri, was chosen as a nominee by a panel of amusement and theme park experts consisting of USA TODAY editors, 10Best.com editors and additional contributors and influencers from around the country.
In addition to this prestigious award, the park's 2015 Guinness World Record-holding wooden roller coaster, Outlaw Run, is ranked in the Top 10 Best Roller Coaster poll from the media company.
This award highlights the world-class offerings at Silver Dollar City, including this year's entertainment focus, The Year of Shows & Festivals, marking a new era of even bolder entertainment, larger-than-life shows and festival adventures. The new, original mega-production Reuben's Swashbuckling Adventure and new fall nighttime experience Pumpkin Nights are just a few of these new adventures, joining over 40 additional rides and attractions, more than 100 demonstrating craftsmen and award-winning food.
"Being selected for this poll by the experts and editors at USA TODAY already establishes us as a premier, global destination for families, but winning a Top 5 spot solidifies the quality and scope of experiences we offer to our guests," says Silver Dollar City President Brad Thomas. "The park's Top 5 win follows a great first half of the year with mentions in outlets like Parents magazine, TIME, Money, U.S. News & World Report and Travel Channel."
Silver Dollar City placed fourth in this competitive poll among some of the biggest parks in the industry, including Cedar Point, Busch Gardens and Disney's Magic Kingdom. Profiles of the parks in the top 10 are now posted at http://www.10best.com/awards/travel/. Publication will also follow in the print version of USA TODAY, with a circulation of 1.6 million, and will be posted at www.usatoday.com, with a combined 6.6 million readers daily, according to materials from the media company owned by Gannett Co., Inc.
Silver Dollar City is currently presenting the Star-Spangled Summer festival, running through July 21, with the park open daily. For more information on Silver Dollar City call 800-831-4FUN(386) or visitwww.silverdollarcity.com.