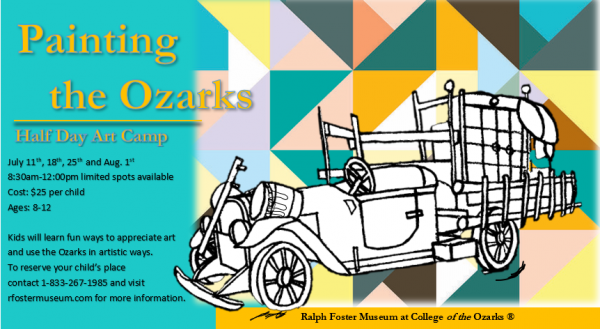 The Ralph Foster Museum at College of the Ozarks is hosting four half day, Painting the Ozarks, art camps. The first will be July 11 with additional camps following on July 18, 25, and August 1.
Schedule of events
8:30 – 9:00 a.m. Check in at the Ralph Foster Museum
9:00 – 9:30 a.m. Art etiquette and how to appreciate what you see in a museum
9:30 – 10:30 a.m. Discovering the conservation exhibit and understanding the Ozarks
10:30 – 10:45 a.m. Break
10:45 – 12:00 p.m. Foraging and painting the Ozarks
The purpose of the art camps is to foster creative and fun ways for young artists to engage the Ozarks. Students will work with the museum staff/students who will articulate the importance of how the land can shape an artist's palette.
The Painting the Ozarks hart camp is for children 8-12 years old. All supplies will be provided, and a treat for the ride home is given at the end of the day. The cost to attend is $25 per child. A permission form must be filled out prior to the event and can be picked up at the Ralph Foster Museum or the Ralph Foster Museum website: https://www.rfostermuseum.com/Learn