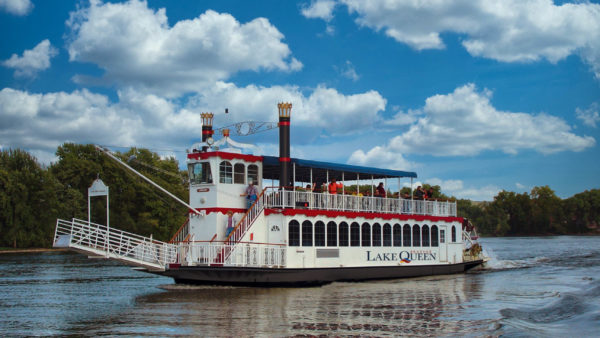 On January 21, 2021. Main Street Marina's Lake Queen made her final voyage on Lake Taneycomo, ending an era. The trip terminated at the boat loading ramp located in the south end of Branson's Lake Side RV Park near Scotty's Trout Dock. Under her new owners' supervision, "Sunapee Cruises," she came out of the water and onto a trailer in preparation for her 1200-mile road trip to her new home on Lake Sunapee in Sunapee, New Hampshire.
The Lake Queen is currently sitting on the trailer, being prepared for her road trip. Among other things, this will include the removal of the Captain's bridge and paddle wheels.
Why the Lake Queen was sold
"This past year has been difficult on all businesses, especially in the hospitality industry. Due to COVID-19, we were unable to operate our cruises in 2020, and, with the continued uncertainty of COVID-19, we decided it was the best economic decision to sell the Queen," said Lianne Milton, co-owner of Main Street Marina.
"We love the Queen and will miss her. It is bittersweet, and we wish her the best at her future home on Lake Sunapee in New Hampshire," she added.
Why new owners brought the Lake Queen
Peter Fenton of Sunapee Cruises was supervising the operation and final preparations for the 1200 mile journey. He estimates that it will take approximately one to three weeks, depending on weather, escorts, and other factors.
Fenton said that the Lake Queen would replace the MV Kearsarge, the oldest of the two cruise boats Sunapee Cruises currently operates on Lake Sunapee. He said the Lake Queen is "the right size for what we are looking to do" and "it's in incredible condition. We are looking forward to giving the Lake Queen a new home."
In announcing the acquisition on its Facebook page, Sunapee Cruises said, "It is with great excitement that we announce the purchase of a more spacious, expertly-built, dinner boat from Missouri! She is a true beauty. She comes with a wildly rich past and has many advancements, including air conditioning, additional outer deck space, more energy-efficient features, and additional capacity for more guests and larger gatherings (post-Covid, of course!). For the next five months, we will continue to work on the new vessel to make her look authentic to Sunapee's rich steamer past. We anticipate launching the new boat between mid-June and the beginning of July 2021. Please know this has been an emotional experience for us, and we do not take it lightly."
Ends a decades-long era
The Lake Queen's departure from Lake Taneycomo ends a decades' long era of Lake Queens plying Lake Taneycomo's waters. A Lake Queen has been cruising on Lake Taneycomo since at least the 60ish time frame in one form or another. In 2008 the current Lake Queen, an 84 foot long, 149 passenger riverboat replica built by Skipper Liner of LaCrosse, WI, began operation, replacing the Lake Queen then in use.
Lake Queen still a part of Lake Taneycomo's evolving history
Even though no Lake Queen actively cruises Lake Taneycomo's waters today, a Lake Queen is still a part of Lake Taneycomo's past and evolving history. The Lake Queen operating in 2008, before the current Lake Queen, virtually intact, is now the foundational element of the Paddle Wheel Pub, floating on Lake Taneycomo at the south end of the Bass Pro parking lot in Branson Landing.