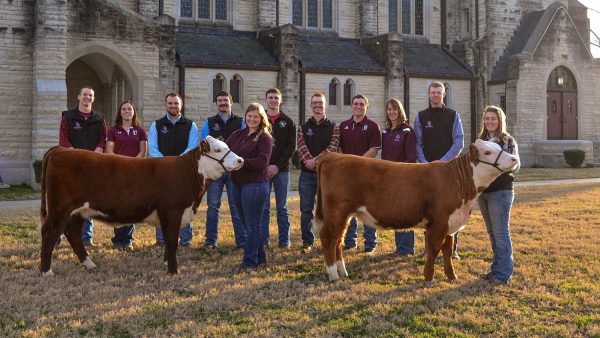 College of the Ozarks – "Hard Work U"
College of the Ozarks C of O) is a 1000 acre, private, Christian, liberal arts college located in Point Lookout, Missouri. It has the moniker of "Hard Work U" because its students are required to earn their education working on many areas around the college. One of those areas if the beef farm of the college's Agricultural Department.
One of a kind sale by C of O Students
A one of a kind sale; on Sat. Nov 30, 2019, the Agricultural Department of the College of the Ozark's (C of O) beef farm will have a sale of their Registered Herefords. The sale will be at noon in the campus sale barn. Before the sale, lunch will be available at 11 a.m. in the Youngman Agricultural Center.
All the sale cattle born and raised on C of O's beef farm
The cattle in the sale are all born and raised on C of O's beef farm and will be available for viewing before the sale. C of O students provide for their daily care of the cattle on the beef farm, as well the pasture grasses they graze on, and the hay they eat.
C of O students managing all aspects of the sale
Students enrolled in the Livestock Merchandising class will manage all aspects of the sale under the guidance of Tammy Holder, beef farm manager. The 82 lots up for sale include several cow/calf pairs, 11 service age bulls, bred heifers, and "yearling open heifers."
For more information on the sale, please call Tammy Holder at 417-342-0871.