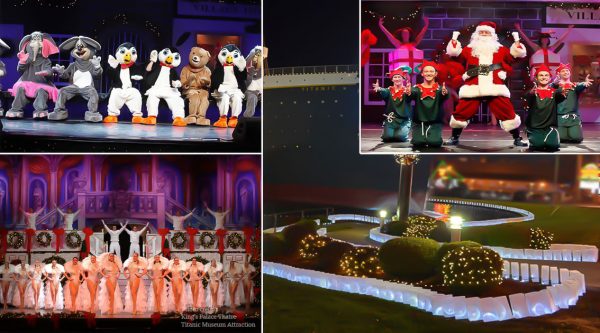 "Branson Happenings" spotlights what's happening during a specific week in Branson; in this case the week of November 20, 2017. It typically features a list of Branson's great live shows performing during the week, a Featured "Show" and "Event" of the Week, along with a list of the major "Happenings" taking place during the week.
There's always fun and excitement in Branson. Sometimes more than others, but regardless of the weather or time of the year, it's hard to imagine a place, anywhere near its size or centralized location, that offers a more awesome choice of live entertainment, natural beauty, shopping and activities than Branson, Missouri.
Branson Shows: These Branson Shows will be performing during the week.
Featured Show of the Week: Christmas Wonderland reminds us all that Christmas is the most magical time of year! It's a spectacular 100% Christmas production is filled with everything festive about this happiest of holidays. You'll experience the music you love best, including songs like Silent Night; Joyful, Joyful; Happy Holidays, Rockin' Around the Christmas Tree, and O Come All Ye Faithful, performed by some of the best vocalists and dancers in Branson. Add in colorful costuming, delightful sets, and the great production Kings Castle Theatre is noted for and the result a special Christmas experience that you don't want to miss!
Featured Event of the Week: The Fifteen-Hundred Magical Luminaries lighting the way to the Titanic Museum Attraction over Thanksgiving Weekend as part of its Christmas Tribute. "The corner of 76 Country Boulevard and Gretna Road in Branson will have an exciting new, nighttime glow when the Titanic Museum Attraction lights its entrance with more than 1,500 enchanting luminaries (festival lights) to welcome visitors to the area and to give them a picture-perfect opportunity to shoot memorable, 2017 holiday photos."
Special Events*
Nov 20-Dec 31: Branson Gift of Lights
Nov 20-Dec 30: Trail of Lights
Nov 20-Dec 31: Branson Landing's Winter Wonderlanding!
Nov 20-Dec 31: Titanic Museum Christmas Tribute
Nov 23: Top of the Rock Thanksgiving Dining
Nov 23: Golden Corral Thanksgiving Day Buffet
Nov 23: Thanksgiving at Level 2 Steakhouse
Nov 23: Mc Farlain's Thanksgiving Day Feast
Nov 23: Keeter Center at College of the Ozarks Thanksgiving Day Brunch
Nov 23: Texas Land & Cattle Thanksgiving
Nov 23: Bob Evan's Thanksgiving
Nov 23: The Worman House Thanksgiving Buffet
Nov 23: Additional Thanksgiving Dining in Branson
Nov 23: Turkey Trot 5K Branson
Nov 23: Devil's Pool Thanksgiving Brunch
Nov 23: Chateau on the Lake Thanksgiving Brunch
Nov 23: Thanksgiving Day Cruise on Main Street Lake Cruises Landing Princess
Nov 23: Grand Country Thanksgiving Day Buffet
Nov 23-26: Moonlight Madness & After Thanksgiving Sales
Nov 23-26: Titanic Luminaries
Nov 24: Branson Landing's Black Friday Blowout!
Nov 24: Special Visit from Santa at Branson Tourism Center!
Nov 23-25: After Thanksgiving Sale at Silver Dollar City
Nov 25: Fontanini Signing at The Grand Village
* Although the listed event is scheduled during the week, use the link to get specifics.