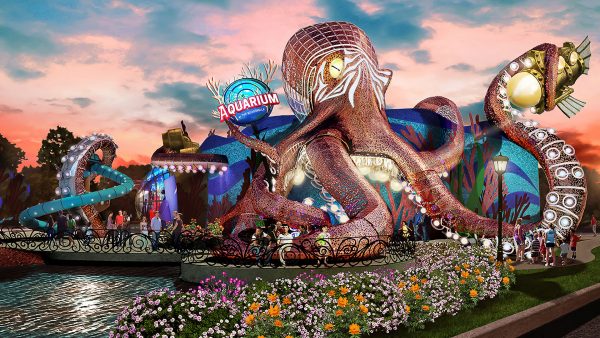 The proposed Aquarium at the Boardwalk, by Branson Entertainment Center – Branson (BECB) will be the topic of a Branson TIF Commission Meeting on Jan. 18. It was also the subject of a presentation Kuvera made to the Branson School Board on Jan. 10.
Branson TIF Commission meets on Request for Aquarium at the Boardwalk
A meeting of the Branson TIF Commission on the request of BECB, an affiliate of Kuvera Partners, seeking Tax Increment (TIF) financial aid for the proposed aquarium project, has been set for Thursday, Jan. 17, at 6 p.m. However, according to information received from Melody Pettit, Communications Director for the city of Branson, all that will happen on Jan. 17 will be a motion to "continue" the hearing until 9 a.m. on Jan.18.
The continuance of the meeting, until Friday, results from a scheduling conflict with the Commission's two Branson School Board members. They have a scheduled school board meeting on the evening of Jan 17. Based on past TIF Commission meetings, it is anticipated that the "continued" portion of the meeting on Jan. 18 will include a BECB presentation to the Commissioners. Six are appointed by the city of Branson, two by Branson Public Schools, two by Taney County and one other member from the five other effected taxing entities.
TIF Commission makes recommendation to Branson Board of Aldermen
After BECB's presentation the audience will have an opportunity to make comments. Typically the 11 TIF Commissioners, will ask questions and make a recommendation to the Branson Board of Aldermen. The Aldermen may either follow or ignore it.
Aquarium developers meet with Branson School Board
In connection with their TIF request, on Jan. 10, Kuvera Partners, made a presentation to the Branson School Board. During that presentation, Kuvera Partner Tej Sundher said, "We didn't set out to build an aquarium. The results of eight separate research studies convinced us that building an aquarium is the best way to attract new visitors to Branson."
The proposed "Aquarium at the Boardwalk," is a $51 million, 46,000 square-foot-facility. It's fully funded and ready for construction to begin immediately. The aquarium, to be located " at the northwest portion of the long-vacant Grand Palace property. It has an estimated opening date of " the Spring of 2020."
Aquarium at the Boardwalk will place minimal burden on Branson Schools
During the presentation Kuvera said, that the school district will see a net gain of more than $870,000 during the projected 15-year life of the TIF. The property is currently generating $5,900 per year in real property taxes. He also points out that after the TIF is paid the "school district and all taxing districts will receive the full value of the increase in property tax, sales tax, and other taxes. Potentially this equates to millions of dollars in benefits.
It was also pointed out that the Aquarium Project would place a minimal burden on the school district. The majority of new employment created will be filled with existing local residents," Sundher said. "Other than potentially bringing in a handful of folks with specific skills and experience in aquatic environments, our staffing model will not cause the school district to incur any additional expenses."