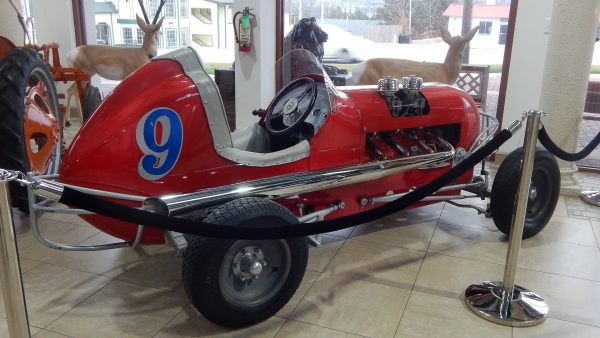 By: Ronnie and Linda Page
The Branson Auto & Farm Museum has over 230 vintage vehicles, farm tractors, and farm equipment and implements. There's over 130 cars featuring classic, muscle, custom collectible cars and street rods. This is an approximate number because many of the vehicles are for sale and the inventory is constantly changing.
Just a Few of the Vehicles in the Branson Farm and Auto Museum
There's a beautifully restored 1956 Corvette convertible with hard-top which could be yours for $79,900. Most are well under that price, but that one just happened to catch my eye.
Just a few of the many vehicles to see include a 1909 Hupmobile Model 20 Runabout; 1913 Model T Speedster; 1927 Ford Model T; 1929 Whippet Roadster; 1937 Desoto; 1959 Chevy Bel Air and a 1949 Nash 600. There's a 1950 Studebaker like the one I rode in years ago with my grandpa. Another favorite was a 1959 Ford Skyliner with a top that retracted into the trunk. It was a beauty in tan and cream colors.
Over 180 Farm Tractors, implements, and Buggies
On the farm side of the building there are about 180 farm tractors, implements and buggies. It contains farm equipment and implements dating from the early 1900's to the present day. You're sure to see something that you'll remember from the good old days.
All of the cars, trucks and farm equipment are in pristine condition. The are shining like they've just come off the assembly line. No matter whether you're in the market to purchase one or more of these vehicles, or you're just looking, its an collection.
History of Branson Farm and Auto Museum
The museum originally opened in 2009 as an automobile museum. In 2010 it was purchased by Mr. Maurice Wilder after buying a car from the museum. After the tornado in 2012, the museum was completely rebuilt into the current 90,000 square foot building. It features both automobiles and trucks as well as farm implements and equipment.
The new, modern building is all on one level, all indoors, and has a climate controlled environment. It's all handicap accessible, with wheelchairs available upon request, and seating throughout for rest breaks There's many photo-op areas and the staff is happy to assist in any way.
It also hosts car shows, weddings, charity, and private events. You can call them for availability and rates. The gift shop has many automotive-related items including die-cast models, apparel, reproduction vintage signs, pedal cars, vintage toys and souvenirs.
The museum is located at 1335 W. Hwy.76. Its open daily 9 a.m. to 8 p.m. except in January. The January hours are daily 9 a.m. to 6 p.m. For additional information please call 417.335.2600 or visit their website at www.BransonMuseum.com.