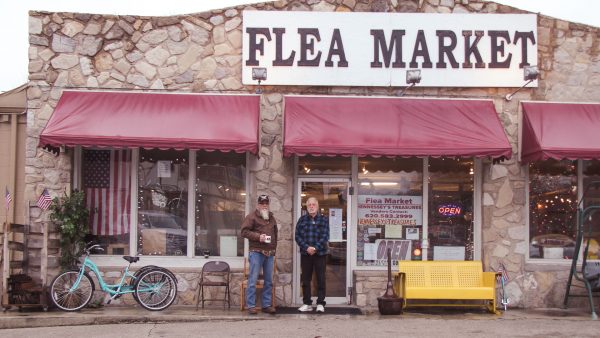 Family business Adds New Meaning to #1 Downing Street
When one normally thinks of "#1 Downing Street" they are not thinking about either shopping or flea markets. If you're in Branson or Hollister, Missouri however, and looking for a unique flea market shopping experience that's new and creative, then you should be thinking about #1 Downing Street. It's the address of Hennessey's Treasures Flea Market in beautiful historic downtown Hollister, providing over 7,000 square feet of a unique and creative flea market shopping experience
Hennessey's Treasures is a family run business owned by Paul Hennessey. His brother Robert described Hennessey's as a "unique little flea market." He said, "Although we sell other merchandise, we try to get that basic Ozarks feel and specialize in rustic vintage arts, crafts, collectibles, primitives, and antiques relating to our Ozark's heritage.
Going Through Hennessey's Treasures Almost like going through a museum
He said that as you go from booth to booth it's almost like going through a museum because every booth is unique and different in design and arrangement. As you go from one booth to another you never know what "treasures" you will find. Each contains many items that are unique and not commonly seen in other shopping venues. "There's no 'cookie cutter' like duplication from one booth to the next. Each is stylistic in and of itself," he added.
Customers browse from booth to booth selecting what they want and pay for it at the counter when they are through shopping. A short walk through Hennessey's Treasures illustrated the point. We passed booths with vintage fishing rods and reels, comics, knives, glass, pottery, bicycles, art work, and much more.
Many Individual Vendors at Hennessey's Treasures
Unlike many flea markets, with all the merchandise provided by the owner, Hennessey's Treasures rents booths out to the individual vendors who provide the articles for sale. This provides lots of unique and interesting merchandise from a variety of sources. "Not only that," he said, "but our prices are very very reasonable. You'll find some of the lowest prices around."
Vendors booth sizes range in size from 3 x 5 and up. Robert said, "We have a booth that's the perfect size and price for everyone." He says that most of the available booths are rented out, but encourages potential vendors to call for availability.
Hours of Operation & Contact Info
His brother Paul Hennessey owns Hennessey's Treasures Flea Market and one of the two of them is most always at the market. Its hours of operation are Mondays through Saturdays open 9:00 a.m. to 5:00 p.m. and Sundays from 9:30 a.m. to 4:00 p.m. Except for certain Holidays like Christmas and New Year's Day Hennessey's is open seven days a week. Hennessey's Treasures may be reached by phone at 417-320-6191 and via email at hennesseystreasures@gmail.com.
If you are looking for a unique shopping experience, where you can find "find just about anything and everything," with something new and creative around every corner, Hennessey's Treasures Flea Market, in beautiful historic down town of Hollister, is the place for you.