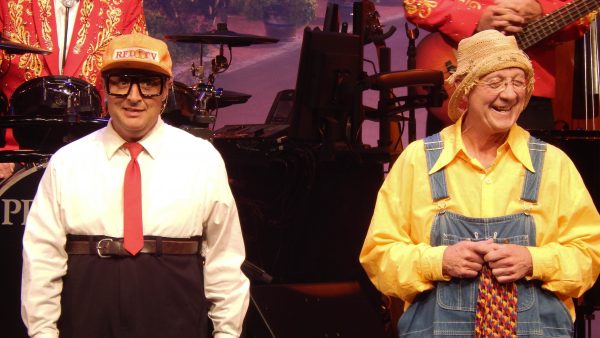 An Ozarks family had been performing their music and comedy on underground stages in caves in the Missouri hills. Their popularity grew and so many people would come from all over to see them they soon outgrew the caves. That family was the Presleys. In 1967 they left the caves and bought some land on an isolated two-lane stretch of road just outside of town and before long they had themselves a brand-new theater, the first theater on what would become the Branson Strip.
Little did the Presleys dream at the time they built the theater that 52 years later they would still be in that same location surrounded by other theaters, restaurants and attractions. Today the current building is a Branson landmark and the Presleys still perform that mix of country, gospel, bluegrass and outrageous comedy. The walls in the lobby are lined with photos and memorabilia from the show's early years. The lobby was originally the stage area.
We have seen this show many times over the years and decided to pay a visit again Monday night. Sitting back and listening to the music and comedy, it's easy to see why this show has retained its popularity throughout the many years. There have been some cast changes over the years, but the foundation of the show has always been the Presley family which now features fourth generation Presleys.
The first thing I noticed was a new face at the piano. We had not seen the show since John Presley left to pursue other interests, but we soon saw that Tony Carson is more than able to fill those big shoes left by John. He also showed his singing chops on "Just A Little Talk with Jesus."
Chuck Cain is still belting out those beautiful gospel tunes like "The Lighthouse." The gospel quartet includes Chuck, Ambrus Presley, Tim Gregg and Jay Wickizer and they sound great. This is also the first time we've seen the quartet with Ambrus singing. "I'm Gonna Wear A Robe and Crown" was just one of their rousing numbers and Tim did a fantastic on a personal favorite of mine, "Midnight Cry."
And we can't forget Herkimer, Cecil and Little Cecil. These fellows are as funny as ever, but before long Little Cecil will not be so little. He's growing up fast. Watch out Eric you may lose your job!
The pretty ladies, Ambrus, Kimberly Barber and Devonna Wickizer are still there and singing beautifully on songs like "Jolene," "Jump Jive," and "You've Got Me Under Your Spell Again." And Jay Wickizer is still there keeping things moving and trying to keep Herkimer and Cecil under control.
There were so many highlights in the show there's no way to list them all. You'll just have to go on over to the Presley's Country Jubilee at 2920 West 76 Country Blvd and see for yourself. Click here for current Presleys' show schedule and ticket prices. For any other information call 800-335-4874, or visit https://www.presleys.com/.