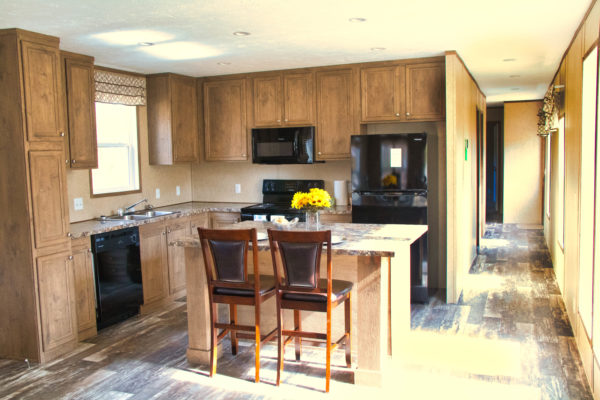 The land, formerly containing "Northwoods Mobile & RV Park, at 640 State Highway 248 in Branson has been acquired by local developer North Woods Mobile Home Park, LLC. Madison Redford, a spokesperson for the developer, said the 15-acre parcel is being developed into "Northwoods Park," a modular home park exclusively for those 50 years old and older.
Redford said Northwoods Park's location provides the feel of country living while being close to the "city services" its targeted residents want and need. The Mercy and Cox medical facilities, three major grocery stores, and the shopping of Branson Hills and Branson Landing are all within about a five-minute drive of the park. Northwoods Park has city water and sewer, underground utilities, and electric service provided by Liberty Utilities.
The development consists of 60 modular homes. Each will be on its own landscaped space, be skirted, and will have a concrete sidewalk and parking area for two vehicles. The park is pet-friendly, permitting up to two dogs per home.
The modular homes in the development include homes manufactured by Clayton Homes and Skyline, will vary in size and price. Redford said, "We currently have two models on display, a two-bedroom/one-bath model starting at $69,900 and a two-bedroom/two-bath model starting at $79,900. Additional units coming in include a three-bedroom two-bath double-wide home. Additional options include decking carports and small sheds."
"Each home has a five-year protection plan on its major components, including plumbing, HVAC, electrical, and water," she added. "A heat pump HVAC system and the R-22 floor, R-11 exterior wall, R-30 ceiling insulation enhance the energy efficiency of the homes.
In addition to the home's cost, there is a monthly lot rental fee of $395.00. The fee includes water, sewer, trash, snow removal, and mowing and is guaranteed not to go higher for at least three years. The individual homeowner is responsible for electricity, cable, internet, etc.
Northwoods Park does in house financing and will be holding an open house on Saturday, November 7, from 10 AM until 2 PM. For further information, call (417) 320-6014 or visit the Northwoods Park Facebook page at https://www.facebook.com/Northwoods-Mobile-Home-Park-111685900738784.