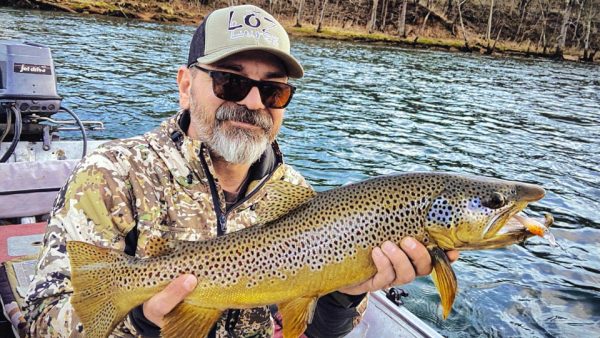 What's a LOZ? A new line of fish catching lures, each handcrafted and hand-painted, by Mario Lozina. But do they catch fish?
Just ask HP Wright of Scotty's Trout Dock about his experience with a big bass on lower lake Taneycomo and a LOZ Grape ape pattern "Fingerling" lure. On the weekend of April 23, Mario and his friend "Koz" caught and released well over 100 trout and an MDC Master Angler Class Small Mouth on upper Lake Taneycomo using LOZ lures. The smallmouth was caught near Trophy Run on a Rainbow Trout pattern "Fingerling" lure.
"Scotty's Fat-Hal," is just one of the hand-painted lures Mario Lozina produces, one at a time, for his company LOZ Lures. HP Wright, the co-operator of Scotty's Trout Dock, with his wife Megan, went to Duane Dody of Lilly's Landing to see if he would supply him with some of his handcrafted and hand-painted
Because of previous commitments, Dody, a mentor and friend of Lozina, could not supply the lures but graciously linked HP up with Mario and LOZ Lures. In honor of the relationships and that Scotty's Trout Dock is the first full-line LOZ dealership in Branson, "Scotty's Fat-Hal" became part of the LOZ line-up.
Formerly an avid long-time fly fisherman who tied his own flies, Lonzina develop a passion for fishing with an open face spinning reel. As was the case with tying his own flies when he was fly fishing, he decided to make his own lures. He kept refining his designs and patterns to see what worked best, and "the catching just kept getting better and better." "They worked so well that a friend said that I needed to sell them," Lonza said.
That was the beginning of LOZ Lures. Currently, LOZ offers five different lures, all of which come in a variety of patterns. The lure line-up consists of the "Fingerling," a 3.5 inch 1/4 oz floating lure; the "Shallow-Hal," a 3.25 inch 1/5 oz lure that dives to about three feet; "Scotty's Fat-Hall," a 3.25 inch 1/4 oz lure that's a bigger, louder, deeper rattling version of the "Shallow-Hal," and the "Taneycomo Drifter," a 3.25 inch 1/8 oz floating lure system designed to for fishing off the bottom.
Each of the lures comes in a variety of patterns. The Fingerling and Scotty's Fat-Hal come in five different patterns, "Rainbow Trout," "Bleeding Shad," Casper," "Smallie," and "Grape Ape." Also, the Shallow-Hal comes is available in an additional "Sculpin" pattern. The Taneycomo Drifter comes in two patterns, "Casper" and "Sculpin."
Mario says that the amount of time to complete each lure depends on the "pattern." Each pattern is first painted with an airbrush using different screens and settings. Depending on the pattern, that can involve between 25 and 40 coats of paint.
Then comes the hand painting of additional details. The amount of detail depends on the pattern. "For example, just one of the additional details for the Rainbow Trout pattern is the hand painting of over 100 dots on each lure." He estimates that, including preparation, airbrushing, hand painting, and adding hooks and rings, about two hours of personal labor go into each lure.
Mario says that he works seven days a week all day long. If he's not actually crafting lures, he's field testing and developing new lures, doing wade or kayak guide trips, or burning artwork into fishing rod handles.
For more information or to purchase LOZ lures locally, please contact Scotty's Trout Dock through their Facebook Page at https://www.facebook.com/scottys.dock or by phone at 417-334-4288.