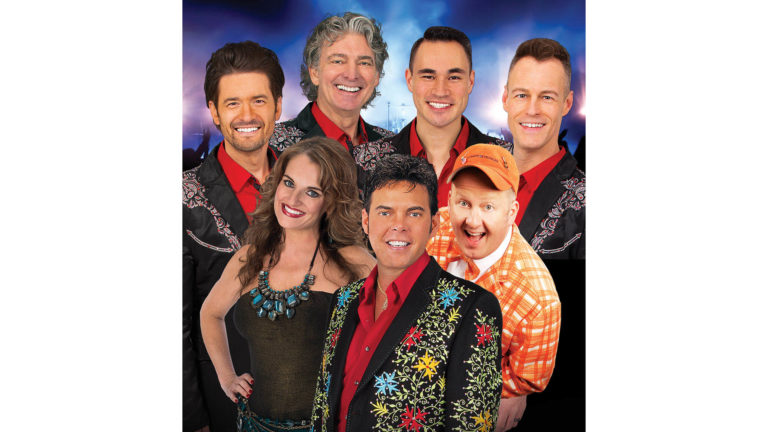 Grand Country Music Hall's home page states that it's the "best entertainment in Branson, performing close to 1,000 performances each year! From Country to Gospel, Rock to Pop, Dogs to Cats, Knee-slappin' Comedy to World-Class Juggling, you'll find quality entertainment to satisfy any age." I have had the opportunity to see many of the shows at the Grand Country Music Hall and can say, in terms of talent, quality, consistency, and value, that is no exaggeration!
A brief look at just five of the major shows that the Grand Country Music Hall offers illustrates the point:
The Grand Jubilee is its primary evening show. "Audiences fall in love with the tight harmonies and dynamic performance of Branson's BEST Quartet, New South! This incredible group entertains with spectacular music, great harmonies, family comedy, and Ozarks hospitality. Mark, Luke, David & Eric sing all of your favorite songs. You'll hear Top 40, Country & Gospel classics, and Rock & Roll hits from the '70s, '80s, and '90s. The Grand Jubilee surpasses expectations of any age. Comedy is abundant! Jamie Haage, as Jim Dandy and Emcee, Mike Patrick, will keep you doubled over in laughter. Along with the power vocals of Jackie Brown, this show is a bomb with the fuse lit! Branson's #1 band, The Rhinestone Mafia, is the backbone of the show."
The Comedy Jamboree is an afternoon show that is "a rollercoaster of laughs, comedy, music, dance and family fun! Winner of 'Branson's Best Comedy Show, you don't want to miss this amazing comedy and musical extravaganza! This highly entertaining variety show is famous for family-friendly Ozark's fun!"
Amazing Pets is a great show for the whole family to start a great day in Branson. It delights children and "kids" of all ages. This is especially so for the parents, grandparents, and other adults accompanying their "children" as they see their faces light up with excitement and joy.
It features "exciting acts and tricks from a troupe of skilled dogs and TRAINED HOUSECATS…! "This amazing cast of furry creatures will win your hearts as they perform for your love and laughter. "Many have been rescued from animal shelters across the country. You'll see beautiful exotic birds and many other magical surprises that will put a smile on your face!"
It isn't very likely if there's a better way for traditional country music lovers to start their day in Branson than with the Down Home Country Show. "With an incredible cast of singers and pickers, you step back in time to enjoy the classics of George Jones, Dolly Parton, Merle Haggard, Gene Watson, and many more."
It features the best of Classic Country, Western Swing, and Gospel music. The kind of music you will never forget, and that made you fall in love with Country Music."
I've seen this show many times; If you love pure country music, this is the show for you!
If you are a fan of gospel music, the New South Gospel show is a show you won't want to miss. "Branson's Best Quartet, New South, sings all your gospel favorites. This two-hour Southern Gospel extravaganza takes you from the early roots of southern gospel to the hand-clapping gospel hits of today. From the Jordanaires to Bill Gaither, this show leaves you walking a little higher." If you plan on seeing this show, it's a good idea to make a reservation because there is only one performance a week on Thursdays at 3:00 PM.
Branson Country USA is a Friday only late-night one-of-a-kind show co-hosted by Grand Country's Jamie Haage and Mike Patrick. The show features the Grand Jubilee cast and a rotating roster of special guest stars. From celebrities such as Mickey Gilley and the Oak Ridge Boys and Branson entertainment stars to the up-and-coming stars of tomorrow, the weekly line-up is always a hit!
For more information on the Grand Country Music Hall, its shows, or tickets, please call 1-888-506-6283 or contact them through their website at www.grandcountry.com/shows.