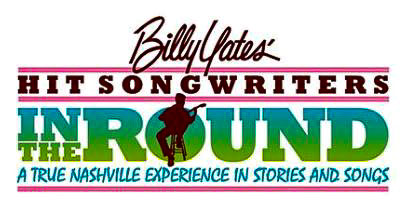 [Editor's Note: Billy Yates is not leaving Raiding the Country Vault in 2018! He will be performing in two shows, Raiding the Country Vault at the Starlite Theatre and Billy Yates' Hit Songwriters in the Round at the Americana Theatre.]
Most Branson show goers got to know Billy Yates during the past two seasons as he starred in the hit country music production, Raiding the Country Vault. "When I got to Branson last year, I realized that with so much variety in the shows and attractions, there was still something missing. Having spent the last 30 years in Nashville, the ever-popular songwriter shows were non-existent here. The thing I missed was the amazing songwriter shows that have become a true Nashville experience in the Music City where hit songwriters share with the audience their original versions of songs they've written along with the stories that inspired them," said Yates who is an award-winning/Grammy-nominated songwriter himself, having penned more than 2,000 songs, some of which have been recorded by the likes of George Strait, George Jones, Kenny Chesney, and more. "A big part of my inspiration for bringing this type of show to Branson was seeing and meeting the audiences at Raiding the Country Vault. The audience's response to this show was amazing. Their rave reviews on TripAdvisor took this traditional, classic country show from number 158 to number 3 in a few short months. A show in Branson that features the very writers that wrote those hit songs is something that I think the folks here are sure to love."
Billy Yates' Hit Songwriters in the Round will debut in April of 2018 at the Americana Theatre on the famed 76 Country Music Boulevard strip in Branson.
This unscripted, unplugged, and unbelievable 90-minute show will bring the best in performing songwriter experiences to the stage where Yates will introduce the audience to the world of performing songwriters, where two other hit songwriter/artists from Nashville will join Billy on stage each week to casually tell the stories behind the songs they play. This relaxed and unscripted show allows the audience to enjoy the spirit of what makes acoustic performances of songs, by the ones who wrote them, so great. Audiences will feel the raw emotions and should be prepared to laugh and possibly cry as they share their hearts and souls in this "like no other" experience in Branson, Missouri.
This is a show you'll want to see time and time again since no two shows are exactly the same. Songwriters and artist/writers will rotate out weekly throughout the season, each performing 3 shows in a row during their stay in Branson. The intimacy of this all acoustic show will leave audiences feeling as though they've made new friends with the stars on stage.
Each show will include a meet and greet and the audience will have a chance to personally "thank a songwriter"… the unseen heroes behind the music of our lives.
In addition to his own Hit Songwriters in the Round show, Yates will continue singing some of his favorite country classics at the Starlite Theatre in Raiding the Country Vault in 2018, so make plans to attend both shows as you schedule your 2018 Branson vacation.