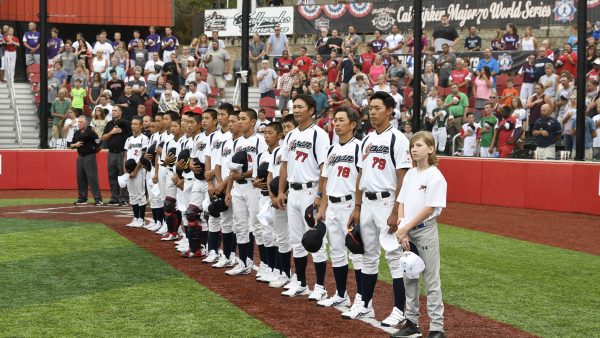 Cal Ripken Major/70 World Series representatives held a press conference On May 3, at Ballparks of America, 1000 Pat Nash Drive, Branson to announce its commitment to host its Cal Ripken Major/70 World Series in Branson for three more years.
Cal Ripken Major/70 World Series, a division of Babe Ruth League. Inc. out of Hamilton, New Jersey, came to Branson in 2017, the first in its three-year agreement with Ballparks of America. The Branson Chamber and Convention & Visitors Bureau (BCCVB) and Ballparks of America worked as a team with them to prepare Branson for the event that has brought players from Mexico, Japan the U.S. and other countries. Now in the third year of its agreement and hosting its international tournament 2019 on Aug. 1-10, the organization has committed to three more years.
"The result has been a strong collaboration focused on taking this baseball experience for young athletes, with its proven International appeal, through 2022," said Cal Ripken Major/70 World Series in a press release.
"Babe Ruth League players and coaches, along with their families and fans, approach our Cal Ripken Major/70 World Series as a once in a lifetime experience because it is an extraordinary opportunity," said BRL Vice President/Commissioner Robert Faherty. "The leaders in Branson echo that perspective. They model the Sportsmanship Code that is paramount to our mission and vision. Their warm welcome and professionalism has allowed thousands to enjoy the excitement of the World Series, leaving the worries of the world behind."
Extending the commitment to 2022 will provide an estimated 10,000 more young athletes and spectators from around the world the opportunity to experience highly-competitive play and to "Explore Branson" with its charm and entertainment.
"For an organization like ours that promotes the teaching of teamwork, we certainly found great teammates in Branson," said BRL President/CEO Steven Tellefsen. "Partnering with Branson has helped us strengthen our unique brand of 70-foot baseball. By announcing our continuing relationship, we are also celebrating success."
Branson attracts people because of its central location, scenery, theme park attractions, fishing and water sports. But in the past few years, with the help of Ballparks of America, it has been building up a reputation for more youth sports.
"With exceptional facilities like Ballparks of America, breathtaking nature, rich history and plenty of adventure, we are the ideal host for the Cal Ripken Major/70 World Series," said Terra Alphonso, BCCVB Director of Sports Marketing and Development. "We are thankful for the many great relationships forged through our collaboration with Babe Ruth League, Inc. The opportunity to continue to exceed everyone's expectations inspires us as we strive to provide not only a competitive and exciting youth baseball tournament, but an educational and cultural experience for all involved."
Babe Ruth League, Inc. is a non-profit, educational organization dedicated to developing better citizens by providing properly supervised baseball and softball competition for players ages 4 through 18. It is the basic intent of Babe Ruth League that every player who has a desire to play the sport is given the opportunity to participate and have fun. "This, above all, promotes good sportsmanship and the healthy development of youth."
"We look forward to being more involved in the Branson community through the newly formed community relations team and having a host team representing great Branson in the World Series," Faherty said.
Members of the community wanting to get involved in the 2019 World Series may do so in various funding programs, serving as volunteers or attending the event to support the Branson Team.
"There will be one Branson area team to compete against all these other regional and country champions, said Ballparks of America CEO Hamilton Chang. "We will need bat boys or girls ages 10-13 for all of these teams. Each team from around the world will also be hosted/sponsored by some local entity.
The tournament will include 20 teams from around the U.S with nine international teams from the Bahamas, Canada, Curacao, Dominican Republic, Japan,Korea, Mexico, New Zealand, Puerto Rico.
Selecting and representing one of the 29 teams in the tournament is possible through an "Adopt-A-Team" program.
We'd like to have the community support each one of these teams," said Chang. "People are encouraged to send us any questions on Facebook direct messaging or at info@ballparksofamerica.com."