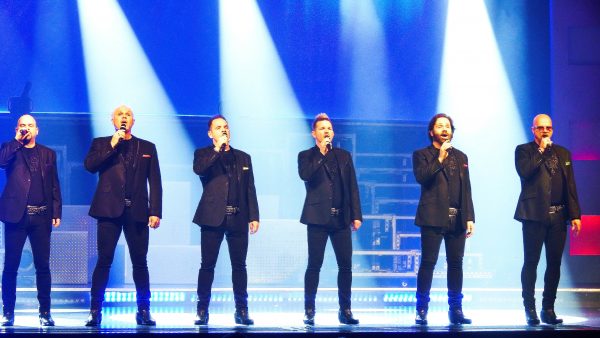 One of the most popular shows in town is "SIX" at the Hughes Brothers Theatre,3425 West 76 Country Blvd.
This is the show that employs no musical instruments at all, just the mouths and voices of all six fellows and that's all they need.
The group is made up of six real-life brothers out of a family of 10 boys. You have Barry the oldest, Kevin is second born with the crazy hair, Lyn is boy number three and the quiet one, Jak the fourth son is the bass man, Owen is the fifth son and vocal drummer and Curtis, the sixth son, is the baby of the group.
The boys were taught by their father to sing sans instruments and to make the sounds of a band with their mouths and who, they say, made them practice eight hours a day even on vacation. Practice sure made perfect in this case.
When they are singing and making those sounds come out of their mouths you soon forget there's not an actual band on stage. That's how good they are! The group has been called "an orchestra of human voices," performing everything from contemporary pop, R&B, rock-n-roll, do-wop, gospel to patriotic. All this is infused with lively choreography and family comedy that only brothers can do.
They perform songs such as "Get Ready," "The Lion Sleeps Tonight," "I Did It My Way," "Duke of Earl," "Only You," "Viva Las Vegas," "Shenandoah," "We Will Rock You," "Lyin' Eyes," "We Are The Champions," "Hotel California," "Walk Like A Man" and many more. Not a dull moment during the show.
When they were just starting out, the brothers would put a hat on the ground and sing for tips on the streets of Los Angeles, eventually making their TV debut in 1978 on The Osmond Brothers Special. They performed alongside legends Crystal Gayle, Andy Gibb and Bob Hope and have since gone on to headline sold-out venues and share the stage with famous names like Trisha Yearwood, Diana Ross, The Beach Boys, Rod Stewart and others.
These guys are always adding new material and constantly delivering those powerhouse vocals and family harmonies. You can catch their show Mondays, Wednesdays and Fridays at 8 p.m. as well as Tuesdays and Thursdays at 2 p.m. Call 877-SIX-SHOW for tickets and information.