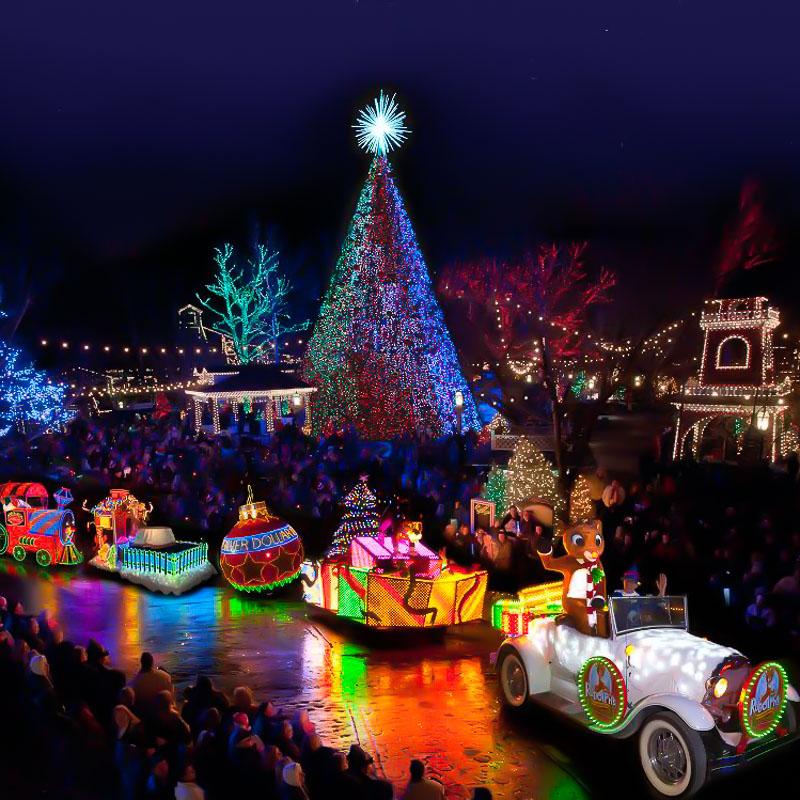 Folks say that you need to visit Branson every season because there is always something unique happening at different times of the year. The Christmas Season in The Ozarks is a perfect example of such variety. You will find that the tradition of the holiday season is highlighted by the character that Branson, Missouri provides. Let's take a few minutes and look at what makes Christmas in Branson so amazing.
Silver Dollar City's Old Time Christmas
Silver Dollar City's Old Time Christmas is consistently rated as one of the top Christmas attractions in the Nation and we think you'll agree when you see the grand pageantry displayed throughout the Christmas Season. Step into a Winter Wonderland filled with sights, sounds, and smells that will make even the grouchiest of bah humbuggers long for the season's festivities. The park is filled with over 6.5 million lights that break through the night guiding you along the way. You will be able to enjoy over 50 live shows daily, in addition to a breathtaking Christmas parade and carolers that stroll the park. They also serve up feasts all over the park with many different restaurants and snack spots. Every appetite is certain to be fulfilled.
And that's just one of many Branson Attractions.There is fun for the whole family so don't leave anyone at home!
Fabulous Christmas Shows
Christmas shows in Branson give us an excellent example of why our city is called the Live Entertainment Capitol. November and December have a wide variety of shows dressing up for the holiday season while audiences flood to celebrate this joyous time of year.
One of the staples of our area entertainment are the Families that do shows in Branson. Some of the featured families that are doing Christmas shows are the Duttons, Gabriels, Haygoods, Hughes, and Presleys. There are also other theaters that have fantastic Yule time classic shows like Dolly Parton's Stampede, Shepard of the Hills (A Shepherd's Christmas Carol), The Tenors (Deep in the Heart of Christmas), Clay Cooper (Hot rods and High Heels 1950's Christmas), and The King's Castle Theater (Branson's Christmas Wonderland). Your family has plenty of variety to choose from for live entertainment in Branson. It should be noted that not all of these shows are open through the end of December so it would be a good idea to check their schedule for availability.
The Polar Express
Bring the kid's for a ride on The Polar Express hosted by The Branson Scenic Railway! This themed ride inspired by Van Allsburg's 1985 famous Christmas story will give your kids an opportunity to step into the pages and experience the wonder and mystery of that unfolds in that popular story. Hot Chocolate and cookies will be provided for your pajama-clad kiddos to snack on. All aboard for a holiday ride you and your family will never forget!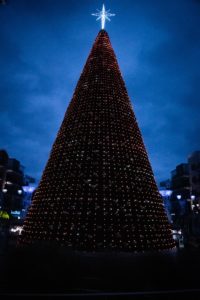 Christmas Shopper's Paradise
One of the most popular traditions in Branson is to explore the myriads of locations to do your Christmas shopping. Stop at The Branson Landing and walk through their "mile-long" outdoor shopping spectacular! There are also several restaurants to fuel up or have a drink and talk over your shopping conquests.
Tanger Outlet, and Branson Meadows also have many shopping opportunities with lots of great sales to make it easier to work through that shopping list. Historic downtown Branson with its eclectic assortment of galleries and shops offers a unique shopping experience not found anywhere else. While you are downtown, make sure to check out Dick's 5 & 10, a Branson landmark that has been here for over 50 years.
Branson shops have something for even the pickiest person on Santa's "good" list and we'll bet you can find something for those who may be on "bad" list too.
Enjoy Drive Through Christmas Light Displays
There are several opportunities within the Branson city limits for you to take in Christmas attractions that you can drive to see. We have several drive-thru Christmas Light Displays that you can check out. If you are here for a few days, you can check out one each night of your visit. Off of Shepherd of the Hills Expressway, you can experience Branson's Lights of Joy. The Trail of Lights is located at Shepherd of the Hills. If you are looking for a more traditional experience, check out their horse-drawn carriage tours. The Promised Land Zoo also has their display, Let There Be Lights, along a two-mile drive.
Branson also has their Christmas Tree City Tour. Follow the map and see over 50 Christmas Trees uniquely decorated all over the city. If you are a fan of Christmas Trees, then you don't want to miss this display.
Make Your Plans Now
As you can see, there is so much going on for the Christmas Season in Branson you will want to make plans to be a part of the excitement. It is definitely a family event and everyone will find something to enjoy during your visit! Especially with shows and attractions because of weather and scheduling, we would suggest making advance reservations to ensure availability when you will be in Branson.
Come To Branson during Christmas and make memories that everyone will remember for years to come! We look forward to seeing you.
About The Author
Dirk D. Myers is a Branson, MO local who specializes in Creative Media. He works to help small businesses carve out a niche for themselves to reach out to customers in their physical business and online presence. Dirk also loves to travel, capture those memories through his lens and share them through his photography site which you can find here.