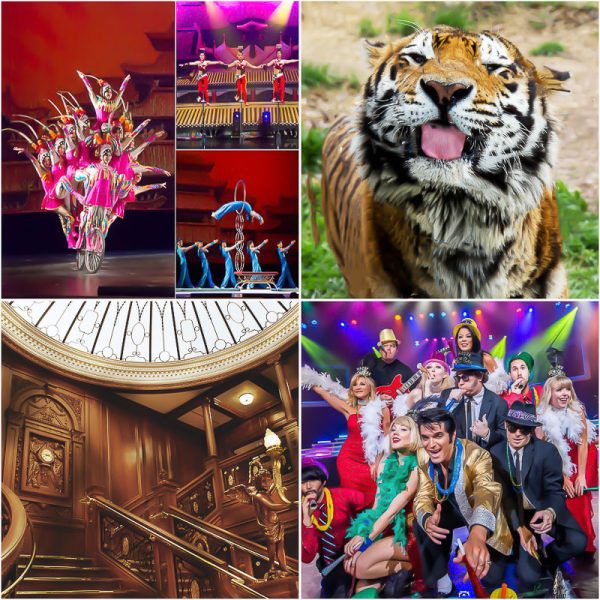 From multiple drive through Christmas lighting displays to Silver Dollar City's nationally renowned "Old Time Christmas Festival," and its great live shows, December in Branson is filled with the spirit of the traditional American Christmas. The week between Christmas and New Years its filled with the fun, excitement and entertainment Branson is known including an awesome choice of ways to celebrate New Years Eve.
Here's our Featured Show, Event, and Limited Engagement of the Month, along with a list of the major, special limited engagement performances and events you can enjoy in Branson during December, 2017:
Featured Show: The Grand Jubilee Christmas show has it all, including amazing vocals by Branson's award winning quartet, New South and Jackie Brown; hilarious comedy with Jamie Haage, a.k.a. "Jim Dandy," and his sidekick Mike Patrick, who is also the show's emcee and producer; and the "Grand Band," one of the best bands in Branson. From the preshow to the final curtain, this awesome production will entertain and inspire you with "grand" music, comedy, and the spirit of a traditional American Christmas.
"We sing the traditional favorite Christmas songs that people sing every year," said Mike Patrick, the shows emcee and producer. "To me our show is like taking out your favorite Christmas ornament each year and hanging it on the tree." When asked what his personal favorite part of the show was he said, without hesitation, "When we get to read the Christmas story from the Bible and see how it resonates with our audience." His two favorite numbers in the show are New South's rendition of a Gatlin Brothers' song "Santa Are You Going To Atlanta" and Jackie Brown's beautiful performance of "I'll Be Home For Christmas."
Featured Limited Engagement of the Month: There's not a more "Limited Engagement" than the spectacular unique ways to celebrate New Year's Eve in Branson. How about cruising Lake Taneycomo aboard Main Street Lake Cruises Landing Princess, a 100 foot luxury yacht, while enjoying a live DJ, dancing, games, prizes, party favors, full-service cash bar, hors d'oeuvres, a dessert bar, and a complimentary champagne toast at midnight? Cruising not your thing, then how about an entertaining and exciting evening with some of Branson's most popular shows as they welcome in 2018 with unique awesome New Year's Eve celebrations including:
Dec 30: Hughes Brothers New Years Eve Party
Dec 31: Main Street Lake Cruises Landing Princess
Dec 31: Legends in Concert
Dec 31: Bill Anderson & Friends New Years Eve Show
Dec 31: Americana New Year's Eve Show
Dec 31: Clay-Goods Jambor-Eve
Dec 31: Hamners' Unbelievable Variety (New Year's Eve Fiesta)
Dec 31: Pierce Arrow
Featured Event of the Month: Silver Dollar City's "Old Time Christmas" celebrates the true meaning of this special magical season amidst the glow of over 6.5 million dazzling lights, including 1.5 million added just this year for its new light spectacular "Christmas in Midtown." Proclaimed as "The Most Illuminated Park on Earth" by the Travel Channel and "One of the most sparkly, lively holiday celebrations anywhere" by Midwest Living, "you'll take home beautiful holiday memories destined to last a lifetime!"
LIMITED ENGAGEMENT PERFORMANCES (Sorted by starting date)
Dec 1-16: Hallmark Presents Maxine's Christmas Carol
Dec 9: Wynonna Judd
Dec 31: Bill Anderson & Friends New Year's Eve Show
NEW YEAR'S EVE BRANSON STYLE
Dec 30: Hughes Brothers New Years Eve Party
Dec 31: Main Street Lake Cruises Landing Princess
Dec 31: Legends in Concert
Dec 31: Bill Anderson & Friends New Years Eve Show
Dec 31: Americana New Year's Eve Show
Dec 31: Clay-Goods Jambor-Eve
Dec 31: Hamners' Unbelievable Variety (New Year's Eve Fiesta)
Dec 31: Pierce Arrow
SPECIAL EVENT HIGHLIGHTS (Sorted by starting date.)
Dec 1 – Dec 30: Trail of Lights
Dec 1 – Dec 31: Branson Landing's Winter Wonderlanding!
Dec 1 – Dec 31: Titanic Museum Christmas Tribute
Dec 4 – Dec 10: Branson's Festival of Trees
Dec 4 – Dec 23: Showboat Branson Belle – Santa's Pancakes & PJs Cruise
Dec 4 – Dec 24: Visit Santa at Bass Pro
Dec 1 – Dec 24: Santa at the Branson Landing
Dec 4 – Dec 30: An Old Time Christmas Festival at Silver Dollar City
Dec 4 – Dec 31: Gingerbread Houses on Display at Chateau
Dec 2: Pancakes with Santa at Mc Farlain's
Dec 9: Breakfast with Santa – Branson RecPlex
Dec 16: Chateau on the Lake Breakfast with Santa
Dec 25: MERRY CHRISTMAS
Dec 25: Christmas Day Champagne Brunch at Chateau on the Lake
Dec 27 – Dec 29: Xtreme Winter Branson
Dec 30: Keeter Center New Year's Celebration (Saturday Evening)
Dec 31: Keeter Center New Year's Eve Sunday Brunch
Dec 31: New Years Eve Celebration at Keeter Center
Dec 31: Chateau on the Lake New Year's Eve
Dec 31-Jan 1: Silver Dollar City's New Year's Celebration
Dec 31: HAPPY NEW YEAR
For additional information on these events, or any of Branson's shows and attractions, or for lodging arrangements, please contact the Branson Tourism Center, one of Branson's largest and most respected vacation planning services by calling 1-800-785-1550 or through their website www.BransonTourismCenter.com