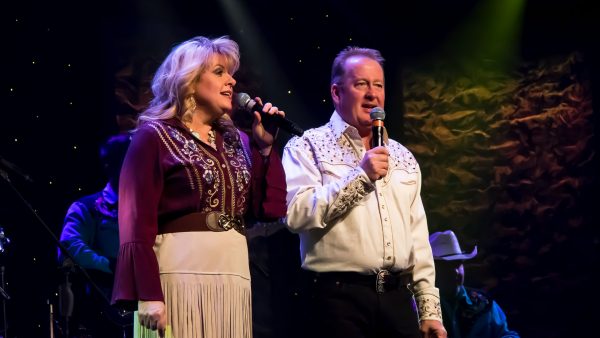 Although many Branson shows have a country music segment, less than a handful could be called "country music" shows. Down Home Country, in the Grand Country Music Hall, is one of these shows "and then some."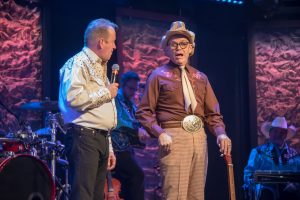 Down Home Country features sets of popular country music, performed by some of the best pickers and singers in Branson, separated by strategically placed comedy, performed by one of Branson's most popular comedians, Jarrett Dougherty. From his stand up pre-show warm up routine to the characters you will meet in his skits, he is one funny guy that will have you laughing throughout the show and wondering what he will come up with next. Two of my favorite parts was the explanation of just how poor his family was when he was a kid and his "Cowboy Karl" routine." They cracked me up, but then Jarrett's comedy always does.
It's really neat, the way the comedy is subtly woven in with main the focus of the show, great country music, played and sung by some of the most talented performers on any Branson Stage. OK, so sometimes it might not be so subtle, but the result is a tapestry of continuous fun and wonderful entertainment.
The featured performers are Jamie Haage and Melody Hart. Jamie, who also stars in the Grand Jubilee show, with the New South Quartet, is the show's host, featured male vocalist, and a fiddle player. Melody Hart , who also stars in Raiding the Country Vault, is the featured female vocalist and featured fiddle player. The band has of some of the most talented musicians in Branson and is composed of Michael W. Davis, Piano & Musical Director; Wayne Massengale, Fiddler extraordinaire; Larry Allred, Bass Guitar & Vocals; Rob Blackburn, Drums; Greg Moody, Steel Guitar; and Chad Cathell, Lead Guitar.
One of the things that makes this show such a joy, is the way the show has been produced by Mike Patrick and Andy Holloway, to seamlessly incorporate the amazing talents of other cast members with those of its featured performers. Larry Allred's performance of "Golden Ring" with the hilarious side screen videos; "Welcome To My World " sung by Melody Hart, featuring her husband, Wayne Massengale on the fiddle; Michael Davis's piano performance of "Send Me Down To Tucson;" and the " Mel Tillis Tribute" are just some examples. I know that other shows also feature their other performers, but there's just something special about the way it's done in this show.
The featured performers, Jamie Haage and Melody Hart do a great job, on a number of country music classics. Among too many to mention individually, Jamie's performance of "Gentle On My Mind," illustrating why he was named Branson's Entertainer of the Year; Melody's powerful performance of "What's Forever For," and their beautiful duet of the Dave and Sugar hit "The Door Is Always Open" were some of my favorites.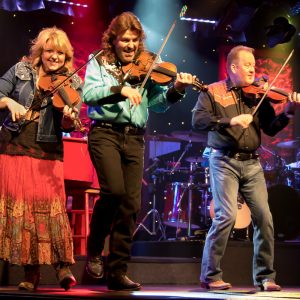 I love fiddle playing and the fiddle playing in this show is really something! In terms of pure fiddle playing I've never seen anything like it. Both Wayne Massengale and his wife Melody Hart, have been featured fiddle players in Branson for years and are two of the best fiddle players I have ever heard. Jamie Haage also plays a mean fiddle and when you have them all "fiddlin" around in one show you know its going to be something special. Their fiddle playing, in numbers like "Talking Fiddle Blues" and "Uncle Pen" is some of the best fiddle playing most will ever experience and a pure joy to hear.
Those are the tangible parts of the Down Home Country experience, but there's just something about the Grand Country Music Hall and the show's cast. Whether it's the fact that I know and feel personally comfortable with them or whatever, there is a sense of genuineness and warmth that, in addition to a great morning of entertainment, just gave me that special "down home country" feeling. This is a morning show and is a perfect fit for either breakfast before, or lunch after, at the Grand Country Buffet located just a few steps from the theatre's doors.
The last performance of the Down Home Country show for 2018 is on December 14. Although, most readers will miss the opportunity to see the show this year, if you love great comedy, great country music and just want to start your day off with some down home country fun, it should sure be on your Bucket List of things to see and do in Branson starting April 16, 2019.