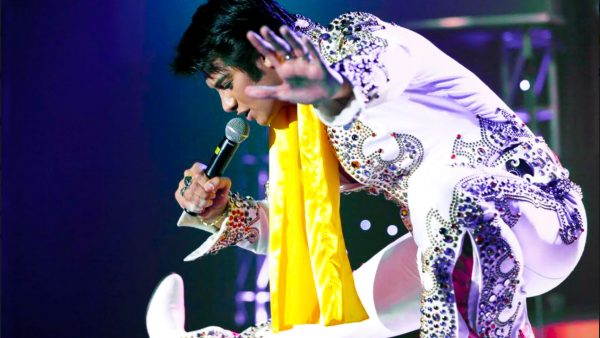 It won't be "Suspicious Minds" claiming to be seeing Elvis on the streets of Branson April 11-14. So no one need get "All Shook Up."
What people will be seeing are contestants for the 13th Annual Branson Elvis Festival at Dick Clark's American Bandstand Theater, 1600 W. Hwy. 76.
The many Elvis sightings in town that week will most likely be the 15 contestants that will compete in the Ultimate Elvis® Tribute Artist Contest™ on April 13 at 7 pm. The contest is one of a select few sanctioned by Elvis Presley Enterprises, Inc.
Branson's own Elvis tribute artist Dean Z will host the contest.
The Elvis sightings throughout Branson will include Radney Pennington and Joseph Hall, two familiar faces to Branson.
Singer/songwriter Pennington, 18, has been known as "Little Elvis." He has lived in Branson most of his life. He has been emulating the "King" since he was 2 years old. He also holds the title of the youngest artist to record at Sun Studios in Memphis, which he did at age 5. Pennington was featured in Billy Ray Cyrus' music video "I Want My Mullet Back," and has performed as special guest in the Mickey Gilley Show in Branson for 12 years. He won the "Midwest Tribute To The King" in Springfield, Illinois and, in 2017, became the youngest person to win first place and Fan Favorite at the annual "LaCrosse Wisconsin's Elvis Explosion." Pennington is also the youngest "Elvis" to perform in the Tony Award winning production, "Million Dollar Quartet." He was not eligible to compete at the Branson Festival until he was 18.
"I'm very honored that I was one of the few selected to compete in Branson, since they only allow around 10-20 competitors each year," he said. "I've been working in this area for 16 years now, and I truly feel ready to compete in the big leagues. I plan on making my hometown proud."
Joseph Hall, who came to Branson in 2010 and performed his "Elvis Rock 'N' Remember Tribute" in Branson for six seasons, moved his family back his home state after receiving many requests to perform on the road.
"I loved the community in Branson and we often think about it," Hall said. "Since returning to Nebraska I have been on the road full time. I have had the opportunity to travel all over the US performing my Elvis Rock N Remember show. It's hard to believe I've been doing my tribute for over 12 years now."
Hall, who is married and has three sons, averages between 80-100 shows a year. He has not entered any Elvis competitions in a few years since they have not been a priority. He says he is "nervous" about the Branson contest.
I have been out of the competition scene for so long," he said. "I'm sure it has changed a lot. Lately I've been getting the competition bug and I thought 'let's do Branson and make a trip out of it.' So I threw my name in the hat. I'm so looking forward to competing in the Elvis contest and hoping to represent Branson in the Ultimate."
The 15 Elvis entries will be judged on vocals, appearance and stage presence. Three judges, Joshua Clark, Ronny Craig and Mike Patrick, will determine who will receive a prize package and will compete in the 2019 Ultimate Elvis® Tribute Artist Contest™ finals in Memphis during Elvis Week, August 9-17.
Patrick, who is General Manager of Grand Country Music Hall, said Elvis' music "has shaped my entire career." He has judged the Elvis contest before.
"What he takes into account when scoring are the sound, the look, the moves, the charisma, the attitude and the performer's relationship with the audience.
"When I'm judging I'm looking for the contestant to have everything Elvis," said Patrick. "We judge on a scale of 1-10. There was only one (time I gave a) 10. The artist has to measure up to the King, the true one and only. It's always an incredible night of Elvis and something I really look forward too."
Branson Elvis Festival activities also include Ronnie McDowell's "Tribute to the King" concert, and Elvis Meet & Greet Dinner, a Legends in Concert performance featuring Ryan Pelton as Elvis, The Dean Z Show, an Elvis Vendor Village, Hurts Donut Company unveiling of the limited edition "Velvet Elvis" donut, a Youth Tribute Artist Showcase, a contest "After Party" at Branson's Center Stage Grille and Ronnie McDowell's "Sunday Gospel Celebration."
Dean Z will perform his show April 12 at 10:45 p.m. He will not only perform Elvis songs, but will include music of The Beatles, Buddy Holly, Michael Jackson and more.
It is a little early to say "It's Now or Never," but the festival is only a couple of weeks away and tickets for the Festival are $25 plus tax for adults and $10 plus tax for children. For information, call 417-339-3003 or go to :www.bransonelvisfestival.com